Ross Huey has been a master butcher for just over 60 years, and runs Dorset Farm Butchers at Sturminster Marshall. He is 79 years young and works with colleagues John (age 85 and about to retire) and the younger of the trio, Andy who is 66.
"When we started up, meat was sold in last night's Echo with a bit of greaseproof paper. Can you imagine what Health and Safety would say today."
"My dad had a big farm near Ringwood and we kept lots of pigs. When I left school I planned to be a draughtsman at Hurn Airport but within two weeks of me leaving, De Haviland went bust.
Dad said to me, if I get a small van I could drive it round and sell our pork. So I did that and I passed my driving test on my seventeenth birthday. Well I was driving a tractor at nine!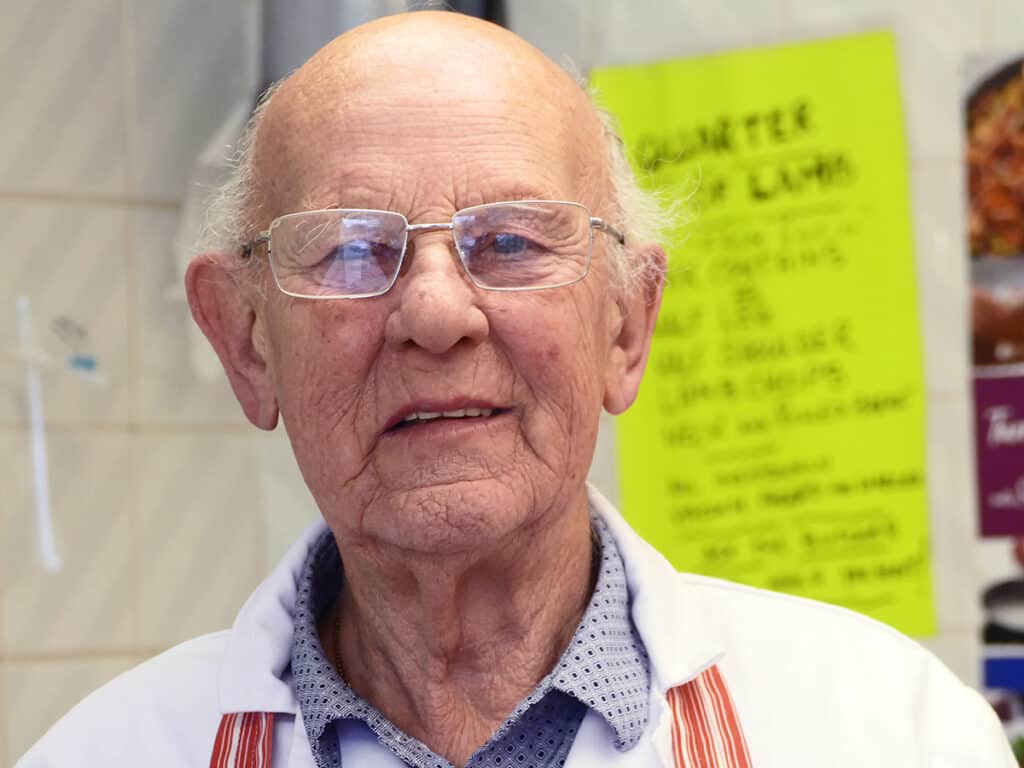 It took six years for Ross to become a Master Butcher. His certificate – dated 21 June 1960 – hangs proudly in the back of the shop.
Ross has not always been at Dorset Farm Butchers in Sturminster Marshall.
He has retired twice, but was headhunted to run Dorset Farm Butchers and returned to the trade. When an opportunity arose to buy the business in 2013, he jumped at the chance.
"I have control of what I sell. Most of my meat comes from the Broadlands Estate near Romsey. I know the life it has had, and the quality. My venison is from Dorset. And our products like faggots and sausages are all homemade here."
Ross has seen many changes in the butchery business. "I'm still working in pounds and ounces. It's what people understand.
And I remember when chicken was a luxury meat. People didn't kill chickens as often because they produced eggs."
He has noticed the method of meat being cut has changed too.
"Now they cut all the fat off and its more lean, which is good I suppose. But I was brought up on bread and dripping because that's all we had."
So how has the Covid-19 pandemic affected business at Dorset Farm Butchers?

"My trade has doubled." Ross shares an infectiously impish grin "People are cooking at home and they can't go out. It's the husbands too. They can use shopping as an excuse to get out of the house! And after they have tasted my meat, they keep coming back for more."
Ross and his team usually make 150 pounds of sausages each week but have recently increased it to 250lb so they can keep up with demand.
"A good sausage has high quality free range pork, natural casings and is well seasoned." advises Ross. In summer they have ten varieties on sale.
He is open seven days a week, and is looking for a new butcher to help with the increase in demand.
Chatting away to Ross, it's obvious it suits him and his team, anyway. For someone with the right attitude there are opportunities in becoming a butcher.
"After all these years I'm doing exactly what I wanted to do – to be a master butcher selling quality locally sourced meat."
Rachael Rowe is a freelance food, health and travel writer in North Dorset. Her portfolio is at www.rachaelrowe.com
Yu can see all past issues of The Blackmore Vale here, and subscribe to receive it every month direct into your inbox here.