Shine is the only UK charity that support adults in their 20s, 30s and 40s who have experienced a cancer diagnosis.
There is never a good time to have cancer, but we know that younger adults face different issues than their older or younger counterparts – Work. Fertility. Finance. Insurance. Sex. Dating. Mental health. Every single aspect of life is affected when you receive a cancer diagnosis.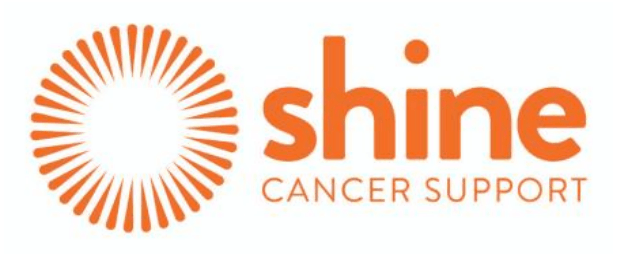 Young adults with cancer: people in need
An estimated 210,000 adults in their 20s, 30s and 40s are living with and beyond cancer in the UK. That's 10 times the number of children and teenagers living with the disease. Yet most cancer support services target older people, while services that do include young adults stop at age 24. A cancer diagnosis can have devastating consequences for young adults.
Shine Cancer Support is the only charity in the UK exclusively focused on supporting this group of people. We started in Dorset as an informal support group and have grown to become a national organisation, supporting thousands of people across the UK. We are also patient-led, all of our staff and most of our volunteers have dealt with their own cancer experience so we truly 'get it' and design all of our services with patients involved.
The current Covid-19 pandemic is having an unprecedented impact on all of us. Our community is particularly impacted because of shielding guidance for those who are most vulnerable to infection.
What we are doing to support our community
With all face-to-face events postponed or cancelled, we are already providing online versions of meet ups and workshops. For example, we are replacing our regional network meet ups with facilitated Zoom calls, allowing our local communities to stay connected with people in their areas. We've reached over 1400 people so far though our online events.
We have also created some new online activities for our community, including a book club and film club. We've created some completely new programmes too, aiming to provide the type of connections and support usually found through our residential 'Great Escapes' and have so far supported nearly 50 people through these six-week events.
How you can help
If you know anyone living with any type of cancer diagnosis who is in their 20s, 30s or 40s, please let them know about us. As a small charity, we have limited ways to spread the word about what we do and a lot of our members find us through word of mouth.
The pandemic has had a huge impact on fundraising so, if you're interested in making a donation or supporting us in any way, please do get in touch. We'd love to hear from you at hi@shinecancersupport.org or visit our website for more information www.shinecancersupport.org
.
Quotes from our community :
"It's been lovely to meet up with others who were going through a similar thing. I felt less alone."
"[Shine events] are always fantastically organised, uplifting, friendly and positive."
"Shine has been a lifeline for me when I'm struggling."
"Shine has been a great way to connect with others. I love the vibe and approach. Everyone is so friendly!"