The Cricketers is run by husband and wife team Chloe & Aidan Macdonald.

How did you end up at The Cricketers?

Aidan & I started working at The Cricketers back in March 2019 as Training Assistant Manager and Sous Chef. We learned the logistics, as well as getting to know all the lovely local faces that came through our front door. In January 2020, the pub was sold to Punch Pubs, I was then asked to become General Manager and Aidan became
Head Chef. We threw everything we had into these roles, and were loving every second… until the Coronavirus Outbreak. Last June we were offered a Management Partnership to take on The Cricketers as our own business and of course we said yes… even in a pandemic!

What's your favourite local place to visit on an afternoon off?

We absolutely love walking within the local area, especially with our Border Collie, Bentley. Hambledon Hill is directly behind our pub so it is the perfect spot to spend the afternoon. We also have Hod Hill to the side of
us and other small walks that lead to surrounding villages. Sometimes we simply walk around Shroton – it's a beautiful place to live in.

Tell us about your 2020…

2020 started out as a wonderful year for us, we were immersed in our new roles and were also enjoying living somewhere new as a fairly newlywed couple. January to March was fantastic,we were struggling to squeeze
people in! During the first lockdown we took time to renovate the garden for people to enjoy in the summer, and to spend some time connecting with the local community. July 4th 2020 and we reopened with a bang; we were busier than ever! All our locals were very present, and so supportive. We are a small team and Eat Out To Help Out pushed all aspects of this industry to new limits. We made it through successfully, and were extremely pleased with how business was going. We started planning special nights again… and then came November 2020 and Lockdown
number 2!! This time we decided to put on takeaways three nights a week for the community of Shroton and surrounding villages. Once again we were again blown away by the support we received. Shroton is just full of community heart; we love living and working here.

What are you most proud of?

We are both so proud of the diverse experience we have created here, from allowing dogs in our bar area (plus an outside dog bar and a plentiful stock of dog biscuits!). We have also worked hard on our restaurant area, meaning we can offer the cosy pub feel in the bar and a more formal dining experience in the restaurant.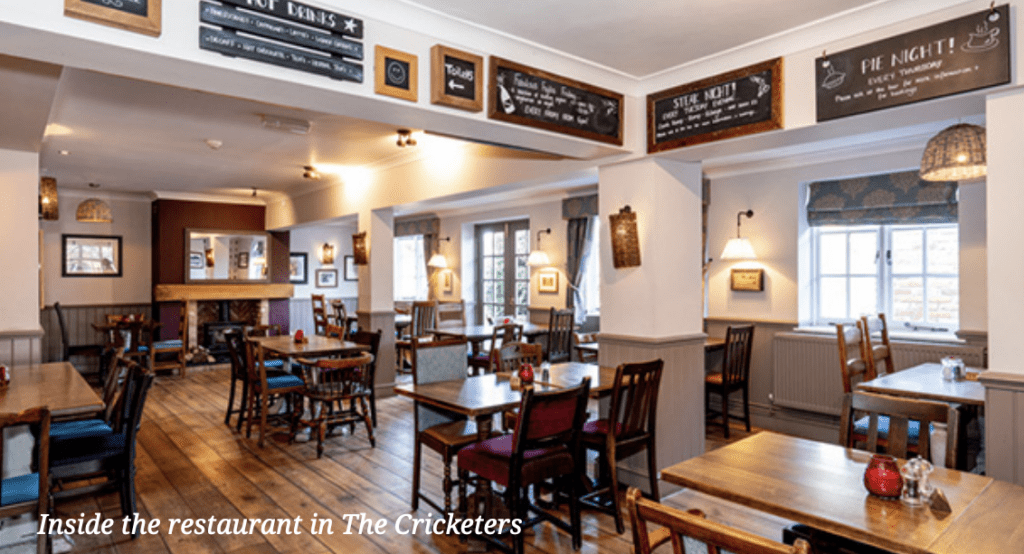 Which dish is your most popular?

It's so hard to choose! Our pies are extremely popular. So popular, in fact, we have a night dedicated to them every week – Thursdays from 6pm-9pm is Pie Night! But one of the most popular dishes on our menu is our Wicket
Beef Burger served with all the trimmings.

However… our cheesecakes come highly recommended due to our array of flavours; there's chocolate orange, toblerone, mars bar, cookie crumble…

What's next – do you have big plans on the horizon?

Wow, we have so many things planned. It's just a case of when we are given the green light to go, COVID has definitely put a hold on so many things but it has not stopped our positivity or strive to do more. Our team have worked endlessly to ensure a safe yet enjoyable experience this year, and we cannot wait to inject a whole lot of fun back into pub life. One definite plan is for outdoor benches & heaters, giving us more capacity year round
whatever the weather. Right now, clearly we are simply waiting to know when we can reopen. We are continuing with our takeaways on Friday & Saturday evenings but we are working on various projects for when we reopen.

We do currently have 2 fantastic competitions on:

1. We are looking for our 'Community Hero' and they could win up to £1000, simply follow
www. pubcommunityhero.com to enter your nomination.

2. Simply like and follow our Facebook page to be automatically entered to win a meal for 2 and a bottle of
Prosecco.