Every month in the Blackmore Vale Magazine we publish a walk in the beautiful Dorset countryside under the heading 'Take a hike'. Not always in the heart of the Blackmore Vale perhaps, but always within reach for a day's walk.
What is unique about these walks is the fact that we have created and then walked them all ourselves! We always aim to create interesting, unpopulated routes with as little road use as possible and of course as many beautiful views as we can squeeze in.
You can always see the routes we take and follow them yourself via the Outdoor Active App – see all our routes here. – Click on contents tab.
We usually aim for between 10 – 15 miles, although due to many requests and to keep everyone happy we have now added some shorter routes between 5 – 10 miles in length.
Above all, we hope you enjoy reading about the walks that we do and enjoying the pictures of course, but if you are taking them on yourself, we would love to receive your feedback on how you found the individual route and any suggestions you might have. Oh and of course we would love to receive your pictures to share as well!
Batcombe & Chetnole great views
Good grief last month's hike was popular – hundreds of you clicked to explore it. Sadly we're still restricted by Courtenay's knee (*bored of it now, frankly – Ed), so we've dipped into a favourite from last year. It's 11 miles as we walked it – we know the shorter ones are more widely accessible, but this one has an obvious path to take from Chetnole back across via Calfhay Farm which would chop the distance for you (and allow you to walk along 'wriggle river' which can only be a bonus. Clearly we all need to think about what 'local' is during lockdown – this walk may need to wait until we're all moving around more freely again. But do please bookmark it and go try it.
Link to the full route (free to download) on the outdoor Active here: We use the (we think great value) premium paid for subscription (under £2 per month) to gain access to all the full OS maps, however the free version of the app is still excellent.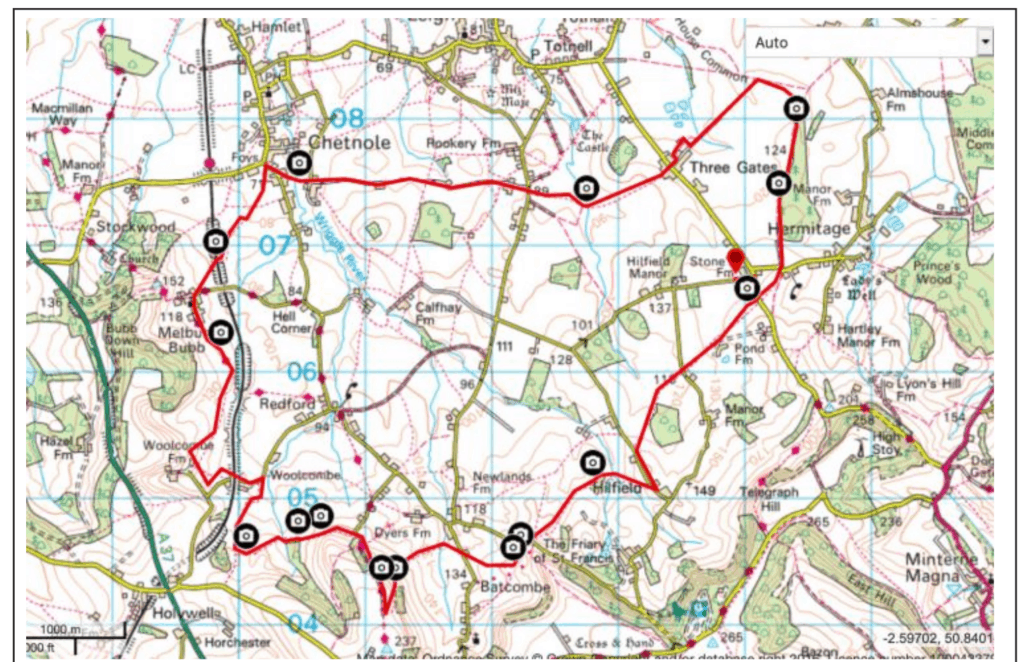 Even on a dull day this was a pretty walk with only one stiff climb. Lots of wide views from the hills, and empty farmland. Watch out for a few boggy spots, especially where joining the Hardy Way. There's a pretty bridge over the railway to look out for, too, and the finishing stroll down the tree avenue of a drover's track is wonderful. The paths aren't always well signed, so keep an eye on the Viewranger GPS tracking – download the full map before you leave, signal is very patchy!
Crossing one of the many streams on route this one between Chetnole and Three Gates.
The stunning tree lined drovers track towards the end of the walk heading into Hermitage.
Wonderful view as you leave Batcombe and are about to head stifly downhill.
The old railway bridge as you leave Melbury Bubb is far prettier than it has any right to be.
Crossing the Wriggle river on the outskirts of Chetnole.