The Cross Keys Inn is owned and run by Mo Gherras and Hannah Booth . It is one of the town's most famous inns; just around the corner from 15th century Sherborne Abbey, it has been welcoming locals and visitors for more than two hundred years.

How did you end up at the Cross Keys?

Having worked in hospitality for over 25 years, mostly spent in London, I started at the bottom and worked my way up. It has always been my dream to be my own boss and run my own business; on viewing the Cross Keys my partner and I saw huge potential and fell in love with it straight away. Getting it to where it is today really has been a
labour of love – the building was in complete disrepair with a hole from floor to ceiling, but now it is complete with bar & restaurant plus luxury guest bedrooms.

What's your favourite local place to visit on an afternoon off?

On the rare occasion we do get time off, its all about the family and creating special memories. We are so lucky in Sherborne to have lots of greats places close by and we love trying new things. If its a quick hour in the afternoon, you'll most likely find me/us strolling Cheap Street or sitting on a bench outside the Abbey. Otherwise we most likely head to the coast, Weymouth, Portland or my daughter loves the cinema in Dorchester.
Tell us about the first lockdown.

We closed for a total of one day and then reopened with a stall outside the pub selling everything from essentials (bread and milk) to takeaway coffee and hot meals. Our stall became very popular, selling between 100-120 scotch eggs and sausage rolls a day! We became members of Sherborne Viral Kindness, the campaign to help those most
vulnerable in the community, by opening our kitchen, and at its peak were making over 50 meals a day. For us it was about helping out however we could.
What was the biggest challenge in getting the Cross Keys ready for reopening?
To be honest it was more of a relief. We were already offering an extensive takeaway menu by this point, so we just maintained the keep calm and carry on ethos and just got going with all the necessary changes. It was amazing to reopen our physical doors and get back to some kind of normal. The biggest impact of reopening has been the cleaning bill … which has increased by more than 30%!

Which bit are you most proud of?

Our resilience and positivity. For us its all about community, so despite everything that's going on around us its about pulling together and remaining positive. It's the customers who come back again and again and tell us how
much they enjoy it that make it all worthwhile. Sherborne has a great community and we are proud to be part of it.

What part of the inn is your absolute favourite?

The pub is very old, with lots of quirky, special features there are simply too many. One of our favourite spots is just inside the front door, at the table which overlooks the conduit and watching the hustle and bustle of Cheap Street. Its a great spot for watching the world go by.
Which dish is your most popular?

At the moment it has to be the Duck. It's a delicious classic dish that uses some of the best local seasonal ingredients. (But naturally all our dishes are worth trying!)

What do you think makes you stand out to your customers?

The Cross Keys is special because we pride ourselves in a welcome like no other. We go above and beyond for all our customers; we make sure every customer feels special, a customer is a name not a number. We not only know our regulars' names, we know their favourite tipple, how they take their coffee and we know their timetables. We make the best of the region; we stock local breweries, local gin (we even make our own!) We focus on local seasonal ingredients and we pride ourselves on homemade dishes made in house and to order.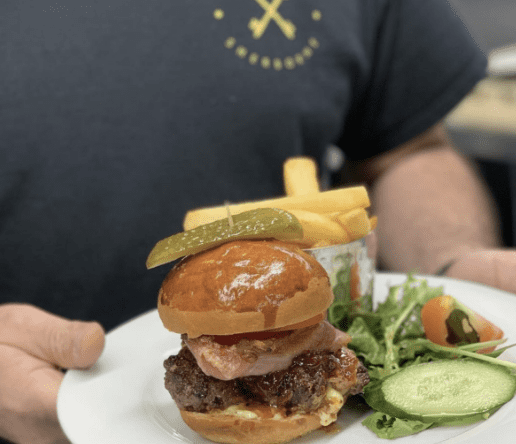 What's next?

It is really difficult to predict whats next but we will just keep going and doing what we love. We will adapt and evolve to whatever comes our way. We have a fabulous Christmas Menu (available as soon as lockdown ends), and for Christmas Day we have an amazing 'Christmas in a Box' with everything you'll need to eat on the big day delivered to your door on Christmas Eve! No hassle and no washing up!
Visit the Cross keys website here or give them a call on 01935 508130 You can also follow them on instagram here