Kelly Ross – Fine Art "Art is too important not to share" (Romero Britto)
Located in the cobbled courtyard of Gold Hill Organic Farm, next to the Café and farm shop, few art galleries can boast such an iconic location. On the sunny Saturday morning I visited, there were clusters of lycra-clad bikers and visitors enjoying the Café's Cappuccinos and Mango Almond and Polenta Cake, whilst others chatted in the queue at the Farm Shop, all creating a friendly buzz. From the gallery's doorway is a spectacular view of Hambledon Hill, an Iron Age hill fort: once the site of a Civil War battle, summer walkers can hope to see orchids and glow-worms on its ramparts.
Just a short walk from The Art Stable is Kelly's home, with its backdrop of the Hill rising steeply to 190 metres above the Blackmore Vale and the River Stour. Indeed, the first revelation of our conversation was not only that she is an oboe player – but she is also an advocate of weekly wild swimming in this same River. An invitation was issued to join her. I'll let you know if I take up the offer!
Kelly grew up in the Lake District before spending time in Paris. She studied for a History of Art degree which enabled her to begin her art career in several prestigious London Fine Art galleries. In 1999 she moved to Dorset to run the Summerleaze Gallery in Wiltshire; then in 2006, when the barn complex became available, Kelly founded The Art Stable here in Child Okeford. The downstairs gallery is mainly used for solo exhibitions; whilst another more relaxed upstairs space (complete with rustic beams) shows an ever-changing selection of 20th century modern British paintings, prints, and ceramics.
With an eye for talent as well as a caring insight into the Dorset community, Kelly brings national and international artists to her gallery. Up to eight exhibitions are shown each year: whereas some London galleries (due to Covid restrictions) are not scheduling programmes for next year, her diary for 2021 and into 2022 was already pencilled in. Sales have been extremely encouraging during lockdown: because people are spending more time at home, she feels they are more at leisure to consider their interior spaces – and treat themselves. It was important to buy what one liked rather than for investment. "Have nothing in your house that you do not know to be useful or believe to be beautiful," said Kelly, quoting William Morris.
Over the years Kelly has built up a close relationship with her own stable of artists, many of whom have become her friends. Some are local such as Charlie Baird, Liz Somerville, Ursula Leach, Amanda Vesey, Christopher Riisager, Henrietta Young, Gary Cook, Sally McLaren and Howard Phipps; whilst others are artists with whom Kelly has previously worked. These include such artists as Tobit Roche, who composes beautifully simple and symbolic paintings of trees and clouds; and Thomas Denny, a stained-glass artist and painter who has made some fifty stunning windows for churches and cathedrals all over the UK. These include the Dorset millennium windows at Hinton St Mary and Tarrant Hinton – well worth a visit. Currently on show in The Art Stable was Felice Hodges, a Dorset artist who creates paintings that at first appear wholly abstract – but on continued reflection, seem rooted in a specific place or moment.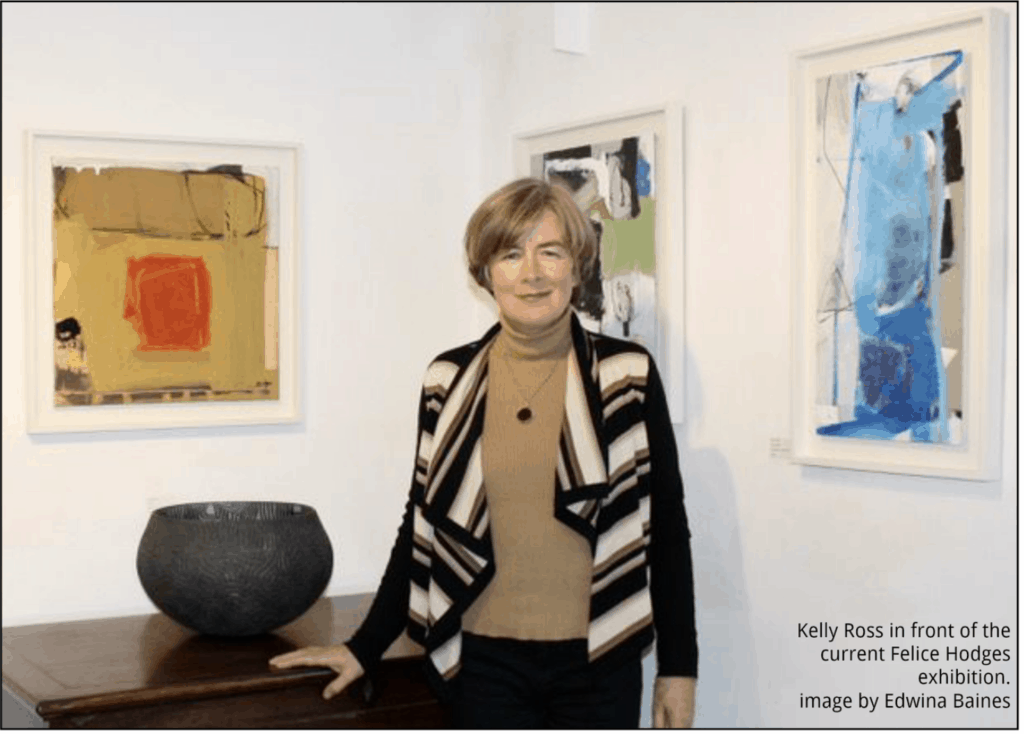 One might wonder how this little gem of a gallery can survive in the rural peace and quiet of a village farmyard? But Kelly's reputation spreads worldwide, with recent online sales to America and Australia from her daily Instagram posts. "There's a big wide world outside of Child Okeford including weekenders and Londoners," commented Kelly. "Clients who like my 'eye' and what I show. When I'm selecting work for my exhibitions, what I look for are artists who have found their own significant art-language, artists whose particular style you can recognise.
In London I had to have a specific focus for an exhibition – but here I can show a wider variety of work, including things that are not necessarily going to be commercial. If you're at all interested in art it is good to see different art styles and mediums: that way you discover what you prefer. I like people to come and look and appreciate the artwork – and if they discover something new that they love, then that's even better."
The next Art Stable show is the Christmas exhibition (with a still life theme) which will run from 28th November to 19th December and will include Paintings, Prints and Ceramics by Gallery Artists. This will coincide with Child Okeford's first Christmas Art Trail organised by village artist Sarah Jack: "to bring some Christmas cheer to our village," and will take place over the weekend of 27th, 28th and 29th November. Sixteen artists, painters, potters, glass blowers and scarf makers are offering Open Studios to see and buy their work – in a socially distanced way. So, I encourage readers to put these dates into your empty diaries: follow the Art Trail and visit the mellow Gold Hill complex – you can be assured of a warm welcome from Kelly at The Art Stable. (https://www.theartstable.co.uk)